Certified Rental Building
Certified Rental Building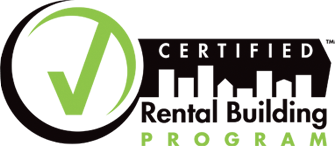 The Smart Choice
The Certified Rental Building Program (CRB) was developed by the Federation of Rental-Housing Providers of Ontario.
Its intent is to provide consumers with true confidence when selecting their next rental apartment home. A strong quality assurance such as this, is consistent with the caring management philosophy of WJ Properties and is why we applied for a "Best-of-the-Best" certification for every one of our buildings. CRB is the only multi-residential apartment building certification program in North America, which assures tenants that they are choosing a well-run, well-managed and well-maintained building every time. It does this by ensuring strict adherence to 52 established building management and customer service best practice standards. Please visit crbprogram.org for more information on the Certified Rental Building Programs.
WJ was the first property manager to enrol in the CRB Program and to receive official status.